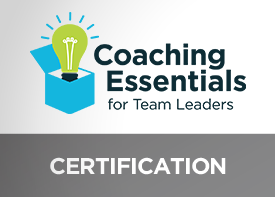 The Coaching Essentials for Team Leaders program empowers people leaders with strengths-based coaching skills. The fastest way to accelerate individual team member performance is to provide real-time, in-the-moment coaching that addresses specific situations or challenges. This program explores a simple coaching model and the core conversations that team leaders can use to set their people up for success at work.
During this certification you will:
First experience being a participant in Coaching Essentials for Team Leaders, delivered by one of our Master Facilitators
Learn a strengths-based coaching model that can be applied in any interaction you have
Gain extensive practice teaching back core content, with constructive review by your peers and TMBC's Master Facilitator.
This certification will provide you with everything you need to deliver a 7-hour, 4-hour, or 90-minute interactive session around what it means to be a "coach" as a team leader. You will receive a comprehensive outline detailing a series of exercises you can deliver to help team leaders understand how to help team members bring their best, every day.
Cost:
$6,750 USD