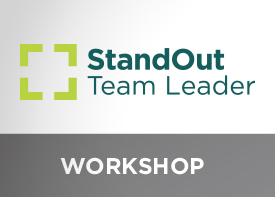 Supported by 30 years of research on what the world's greatest team leaders do differently, the StandOut Team Leader experience explores how the best leaders understand their teams' strengths to drive success. Using a blended approach to learning, this program empowers people with the knowledge and skills they need to fuel engagement and accelerate performance. With an integrated modular and flexible design as well as a strong focus on practical application, the StandOut Team Leader program provides organizations with multiple delivery options to suit their needs and outcomes.
OUTCOMES:
Discover the return on investment earned from managing others through a strengths-based perspective.

Identify their strengths through the StandOut assessment and learn key strategies to use those strengths at work.

Explore key tools and strategies to know, focus and engage their people.

Practice the conversations that set team members up for success.

Learn how to measure team engagement and create habits and rituals to build a high performing team.
COST:
$1,500
Download "SOTL Registration - April 18" IN0102_SOTL_registration_form_r01v07_April2018_writeable.pdf – Downloaded 429 times – 61 KB