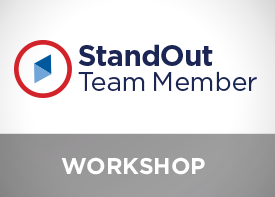 Do you want to play to your strengths every day?
StandOut Team Member is designed for individuals who want to explore the strengths-based mindset and gain a deeper understanding of how to win at work.
During this workshop, you will learn to:
Know your strengths. Understand your StandOutRoles and define specific activities that make youfeel strong.

Focus your work. Create habits to win at work by applying your strengths.

Engage your team. Share your strengths with others and learn to work with them based on their strengths.
Cost:
$1,500
Download "SOTM Registration June 2017" IN0286_SOTM_registration_form_r01v02_JUN2017_write.pdf – Downloaded 422 times – 92 KB