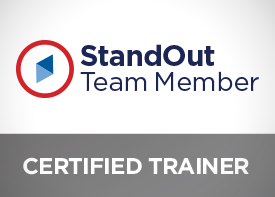 The StandOut Team Member program provides tools and strategies to help team members identify their strengths and stand out at work. Trainers will learn how and why the StandOut Team Member program was developed and understand the powerful impact it can have on team members and their team leaders. Each trainer will have the chance to practice delivering energetic, compelling activities that lead groups to explore the principles of a strengths-based mindset. The certification builds competency and confidence around facilitating the content, teaching trainers how to deliver StandOut Team Member in multiple formats.
During this certification you will:
Experience being a participant in StandOut Team Member, delivered by one of our Master Facilitators.
Learn strategies to know your strengths, focus your work, and engage your team.
Gain extensive practice teaching back core content, with constructive review by your peers and TMBC's Master Facilitator.
Explore the StandOut technology platform, a tool designed to instill the best practices of top leaders.
Cost:
$6,000 USD