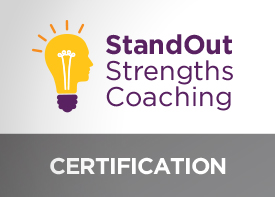 StandOut Strengths Coaching: Certification is designed to support coaches or experienced professionals with adopting a strengths-based lens for their practice. Through in-person and virtual sessions with other qualified professionals, participants will practice and apply proprietary tools to support clients in fully developing and applying their strengths.
OUTCOMES:
Understand foundational strengths philosophy; educate clients on strengths philosophy.
Practice key strengths-based coaching strategies: support clients in understanding their strengths and how to use them to produce results and reach their goals.
Learn strategies for managing client weaknesses; teach clients to self-support.
Speak confidently to and coach effectively around the 9 StandOut strength Roles and combinations for individual and teams.
Integrate their own StandOut Roles and strengths to become an even more effective coach.
Leverage the StandOut Platform to support coaching conversations.
COST:
$8,000 USD