Discover the Power of Conversation
The highest performing teams and their leaders can't stop talking.
Find out why it works.
It turns out conversations are even more critical than we all thought and we have the data to back it up.
When Check-Ins Occur Frequently, Engagement Rises Significantly.
When Team Members complete a StandOut Check-In, employee engagement increases.
When Team Leaders talk to Team Members about StandOut Check-In content, engagement increases even more.
When the frequency of StandOut Check-In conversations are sustained, so is the engagement level.
Read the Brief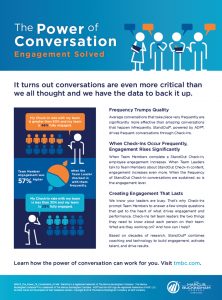 Discover how frequent conversations create engagement that lasts. Please fill out the form below to request your copy.