November 13, 2021
Introducing The New Resource Hub

The Resource Hub is the new home for all StandOut deployment and adoption content. It is a part of the StandOut Platform itself, located inside StandOut Admin, and will replace the StandOut Now website as the repository for all StandOut Technology Subscription content resources.
This means that StandOut Now will no longer be the source for this kind of documentation and support – we're putting it all under one roof in StandOut itself.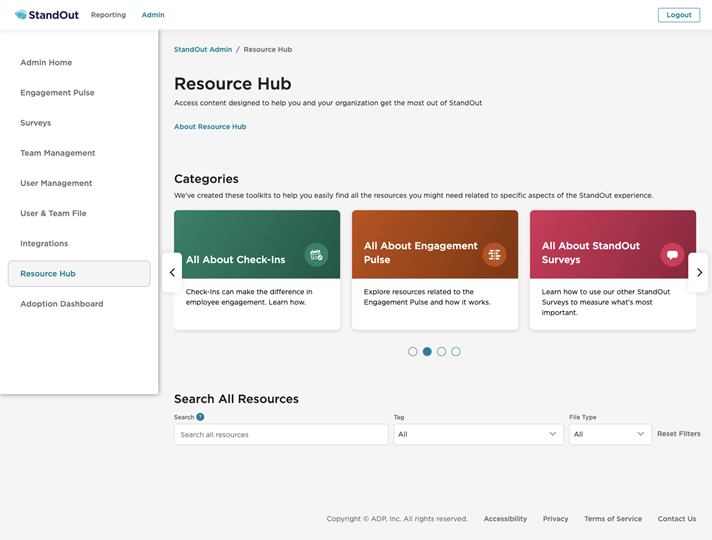 Each category groups together related resources to offer a more guided experience through a particular feature or aspect of StandOut. Use these toolkits to deep-dive on topics like Deploying StandOut, All About Engagement Pulse, or Reporting.
Searching
If you are looking for a specific asset, you can use our new search filters! There is a live filter, which will search through all our assets for what you've typed, checking against the asset title, description, or assigned tags. Additionally, you can search by a specific tag such as "Check-Ins" or "For Team Leaders," or by file type, such as Video or PDF.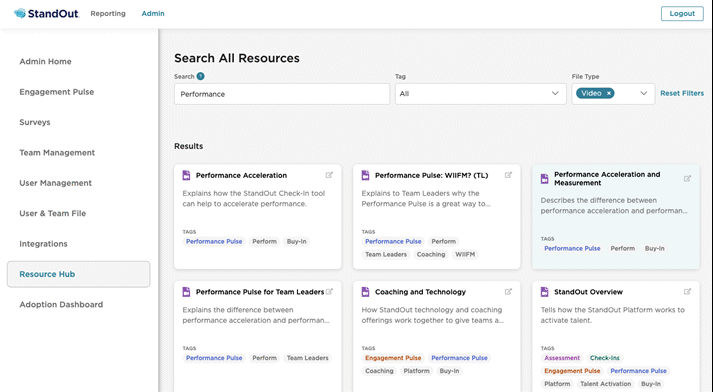 Sharing
You can share the resources in the Resource Hub with your team leaders and team members by copying the link using the icon in the top right of each resource card. Once you send the link, they will be able to access the files just like they can today.
October 2, 2021
Introducing the Adoption Dashboard!