The Client
Stanford Health Care, a global leader in the integration of biomedical research into customized patient solutions
The Challenge
Keeping employees engaged in a fast-paced, high-demand industry
The Solution
Stanford Health Care used StandOut's Engagement Pulse to measure its baseline engagement score, which indicated 42% of employees were "Fully Engaged."
Next, to build engagement, Stanford asked team leaders to commit to Check-Ins: frequent, quick, and light-touch 1:1s with each team member about near-term future work.
The Results
After just three months of using StandOut Check-Ins, Stanford saw an increase of 10% in their "Fully Engaged" score. That number increased to 14% within seven months.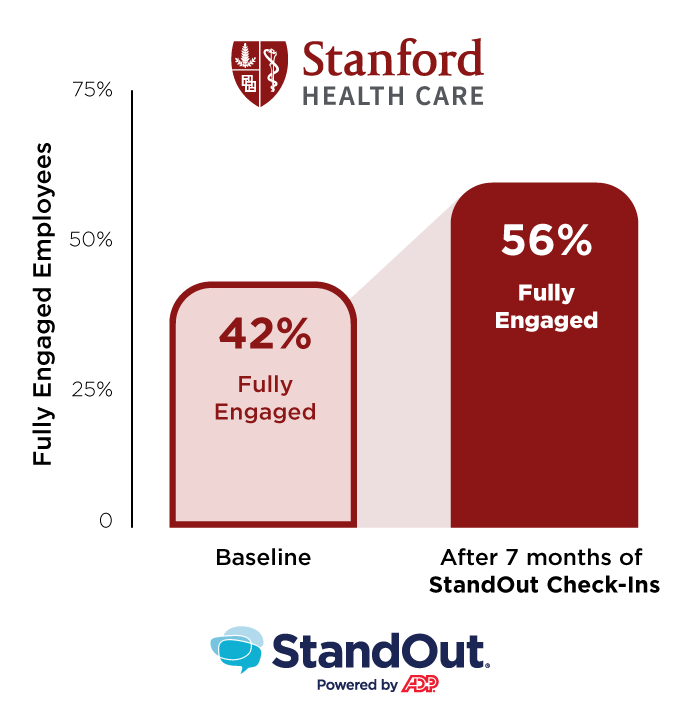 Keeping teams engaged every day is important for every organization. But it's especially crucial for the healthcare industry, where employees are called upon to deliver exceptional outcomes within a fast-paced, high-demand environment.
To do that, Stanford Health Care needed to understand its current team member engagement levels. This involved generating precise engagement data that could provide a basis for practical action. The data gave the organization a clear picture of overall engagement in real time. Once they understood the current state of the organization, Stanford knew that they had to go beyond measurement to identify and embrace specific practices that drive engagement higher.
Download the full Stanford Health Care case study below.